In his unusual, unsettling and often utterly brilliant new documentary, Kate Plays Christine, director Robert Green explores a number of disparate yet flexible layers of reality and fiction. As much as this is a documentary about the tragic on-air suicide of American news reporter Christine Chubbuck, it is about the processes and pains of performance and the inherent sadism in spectatorship.
Greene's film follows actress Kate Lyn Sheil as she researches and prepares for the role of Christine in a film that never materialises. Kate travels from a dull, rainy New York to the pristine beachside pastels of Sarasota, Florida. Unable to obtain any recorded footage of her news reports, let alone the recording of her death, Kate visits the spaces and environments that shaped Christine, the few people that knew her and the archival institutions of the coastal community in hopes of gaining some insight into the tragedy. Despite her efforts, Kate seems to get no closer to the troubled woman she is determined to manifest onscreen.
Kate purchases a coiffed wig, undergoes spray tans and sun beds and acquires a work-casual wardrobe straight out of 1974. Visually embodying Christine, she moves through the formative environments of her life, interacting with beachside locals and gun store customers. These interactions and interviews, punctuated with harshly lit, soap opera style segments from the film's production, operate as a kind of ritual evocation of Christine – an attempt to remember and experience something utterly unknowable.
The process of acting here is analogous to the act of remembering. No one Kate meets seems to have genuinely known Christine: she is manifested in the Sarasota news industry in ghost stories and inside jokes; those who were close to her have either died or moved far away. With each step, Kate moves further away from Christine – her frustration builds with mounting intensity as the narrative edges closer towards its inevitable climax, the recreation of Christine's suicide. As it does, Kate Plays Christine begins to blur the lines between reality and fiction, performance and spectatorship. It's hard for us to determine what is part of Kate's frustrated process and what is an act, meticulously worked into Greene's didactic project.
"In keeping with Channel 40's policy of giving you the latest in 'blood and guts', you are going to see another first… attempted suicide"
These, Christine's final words, were intended as a damning indictment of the American news media. However, the culminating sequence of Kate Plays Christine, framed in grainy video fraught with tracking issues, operates on a number of levels, castigating the superficial, "uncomfortable" act of "playing dress up" (as Kate calls it), the fetishisation of the traumatic past and the spectator's willingness to casually consume it.
At the risk of equating two vastly disparate tragedies, I am reminded of Adorno's infamous "after Auschwitz" statement, wherein he asserts:
"The so-called artistic representation of the sheer physical pain of people beaten to the ground by rifle butts contains, however remotely, the power to elicit enjoyment out of it."[1]
When tragedy, particularly that which is violent, is consumed a distinct spatial and temporal distance, there exists a possibility for what Michael Rothberg has called "sadistic identification" – any violent historical situation can be "mobilised for the enjoyment of the spectator."[2] As she asserts, Kate is determined not to fetishise Christine or her tragic, violent death. While the final sequence of Kate Plays Christine acts as a critical indictment of such fetishisation, targeted directly at the spectator, Greene's method throughout serves to explore the spatiotemporal distances at which we consume historical trauma. Not only are we constantly reminded of the proclivity towards fetishisation in traumatic representation, we are pulled into the world of representation, compelled to acknowledge our own relationship to televised tragedy.
While the elusive video of Christine's death has achieved a mysterious, near-mythic status, few people in this community remember Christine the human being. Accordingly, Greene examines how each space remains unaffected by tragedy and how time erases the humanity behind it. Kate's acting process is expertly used as a vessel to explore these themes and the deep-rooted potential for 'sadistic identification' in the act of spectatorship. As the narrative develops, the process of viewing becomes imbued with a feeling of guilt. We want Kate to uncover the tape and we are punished for it.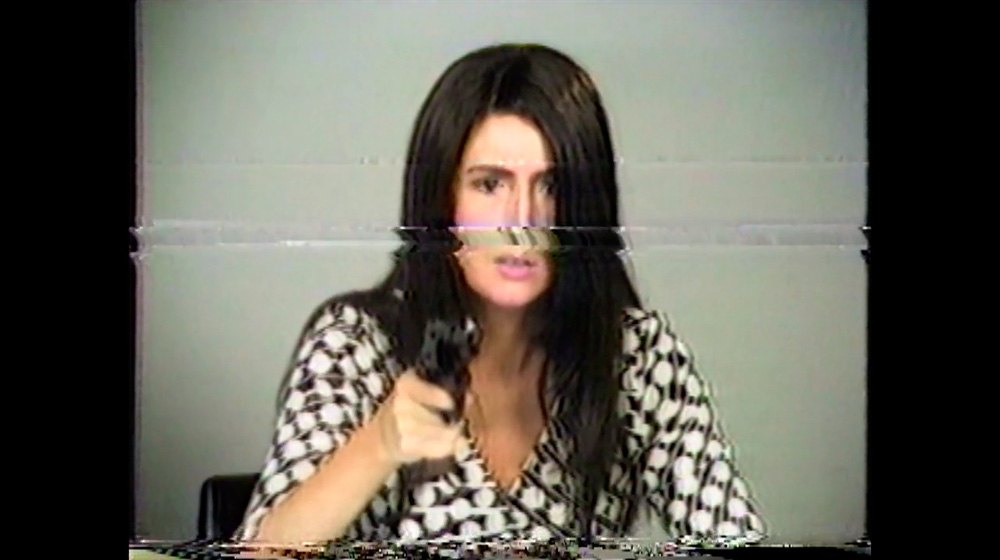 Kate complains about her past performances frequently being referred to as "subtle" – there is little subtlety here. Greene's film is equal parts rationally lyrical and damningly subjective. Despite being lusciously filmed and wonderfully performed, Kate Plays Christine can, and should, unsettle and unnerve its audiences.
– Martin Macnamara
[1] Theodor W. Adorno, "Engagement", in Noten zur Literatur III. Frankfurt am Main: Suhrkamp Verlag, 1965. p.125-126, trans.
[2] Michael Rothberg, Traumatic Realism: The Demands of Holocaust Representation. Minneapolis: University of Minnesota Press, 2000. p.41.
Kate Plays Christine opens in the Irish Film Institute on October 14.